I AM STILL SELLING JUKEBOXES IF THEY CAN BE DELIVERED IN A SAFE AND SENSIBLE MANNER FOR ALL CONCERNED.  HOWEVER, THE SHOWROOM IS SHUT FOR NOW.
Jukeboxes Direct buys and sells Wurlitzer and Rock-Ola jukeboxes from our showroom in Sheffield.
Welcome to Jukeboxes Direct. Please use the navigation links above to find what you are looking for. I buy and sell, repair and restore, Wurlitzer and Rock-Ola jukeboxes.  I also do callout repairs on Wurlitzer and Rock-Ola jukeboxes in the South Yorkshire area, Sheffield, Huddersfield, York, Hull, Halifax, Bradford, Harrogate.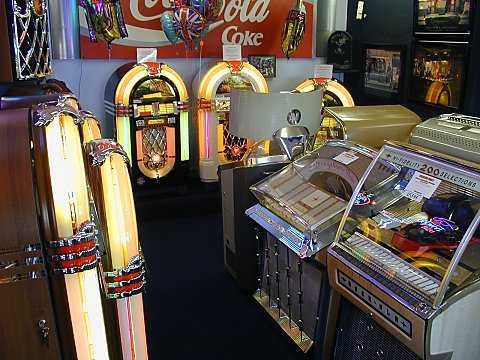 Jukeboxes For Sale are on display in my showroom.  You are very welcome to come and see them mid-week by prior appointment (as I am in and out doing callout repairs) or you can call in on a Saturday when the workshop and showroom is always open between 10.00am and 4.00pm.