JUKEBOXES DIRECT IS CLOSED UNTIL THURSDAY 14th December.
THE SHOWROOM IS OPEN FOR VISITS ARRANGED BEFOREHAND SO IF YOU WANT TO DROP IN GIVE ME A CALL FIRST OR I MIGHT BE OUT.  Thank you.
Jukeboxes Direct buys and sells Wurlitzer and Rock-Ola vintage and retro jukeboxes from our showroom in Sheffield.
Welcome to Jukeboxes Direct. Please use the navigation links above to find what you are looking for. I buy and sell, repair and restore, vintage Wurlitzer and Rock-Ola jukeboxes and also the modern Wurlitzer One More Time jukebox.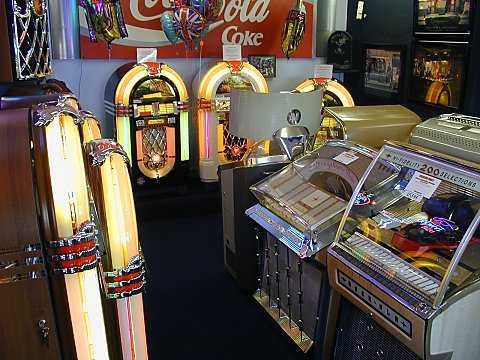 Jukeboxes For Sale are on display in my showroom.  You are very welcome to come and see them Tuesday to Saturday by prior appointment (as I am in and out doing various jobs).
JUKEBOXES DIRECT, HUNTINGTOWER ROAD, SHEFFIELD, S11 7GS 01142676333